Medical Books: AMA Code of Medical Ethics - Physician's Ethics Guide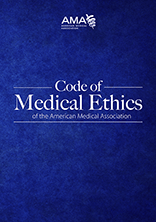 List Price:59.95
Member Price:44.95
Item#:OP632316
ISBN#:978-1-62202-553-4
The Code of Medical Ethics was adopted at the first AMA meeting in 1847. Much in medicine has changed in 169 years, but this founding document—the first uniform code of ethics of its kind—is still the basis of an explicit social contract between physicians and their patients. It is regularly cited as the medical profession's authoritative voice in legal opinions and in scholarly journals. It should be in every medical library and practice office.
One of the goals of the modernization was to make the Code simpler to navigate and related opinions easier to find so that physicians could more readily apply the Code to their daily practice of medicine. Changes include:
Creating a more intuitive chapter structure so that guidance is easy to find
Implementing a uniform format for opinions so that guidance is easy to read and apply
Consolidating guidance into a single, comprehensive statement on each topic
Harmonizing guidance on related issues
Identifying, updating and retiring guidance that had become significantly outdated over time
The updated Code also includes a new preface to clarify the different levels of ethical obligation in the various ethical opinions.
Learn More