Co-Management Service Line Agreement
New resource! With service line agreements becoming both more popular and more complex, the AMA introduces a new resource to assist physicians and their legal counsel in navigating and negotiating these contracts.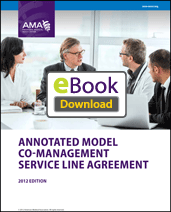 View the table of contents, find more product details, learn about e-book features and access, and purchase the current edition through the AMA Store. AMA members may download this e-book for free.